Book Binding Types
The type of binding is usually selected based on the function of the document, the number of pages it contains and the printing budget. Strangely, esthetics are usually considered last in the decision-making, unless quality is a priority and budget is not a factor, or the binding itself is part of the conceptual design There are lots of options for binding and securing your print project that accommodate a variety of end use functionalities and presentation styles. Some of the numerous binding options available are:
---
Wire-O Binding ( Spiral Bound )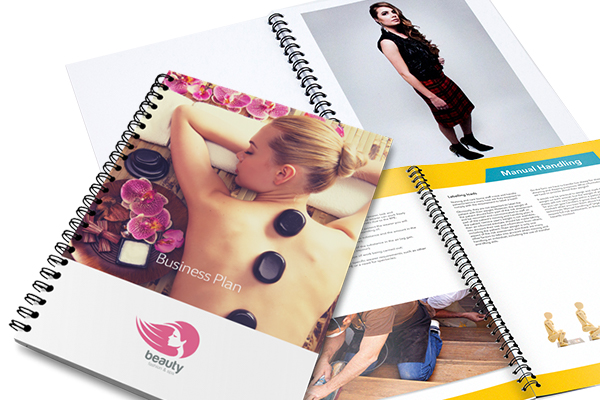 Coil binding is a popular book binding style used to
create documents, reports, presentations and proposals
. Coil binding uses strips of wire that pass through a series of holes to bind together stacked paper. Coil binding goes by many names, including spiral binding, spiral coil binding, spiral book binding, color coil, or coil bind. This binding offers flexibility in terms of look, size, and color, which makes it an ideal choice for any document binding and will keep looking crisp. Long-lasting and practical, it helps protect your materials, sustains less damage, and keeps pages tightly bound.
Perfect Binding ( Hot Glue Bound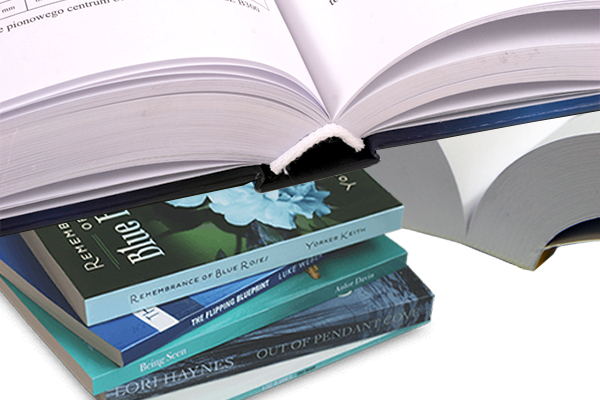 Perfect binding uses a strong adhesive (Hot press glue) to bind the pages together. It's a durable, low to medium cost packaging solution for publications that need to be thicker than a saddle stitch can accommodate. Perfect binding, sometimes referred to as edge binding, also offers a more sophisticated, commercial looking product.
This is the right solution for your
paperback softcover & hardcover book and magazine printing
. If your project less than 64 pages then perfect binding type is not your best option. Perfect binding required minimum 78 pages (back & front print ) or around 5-7 mm.
Saddle Stitching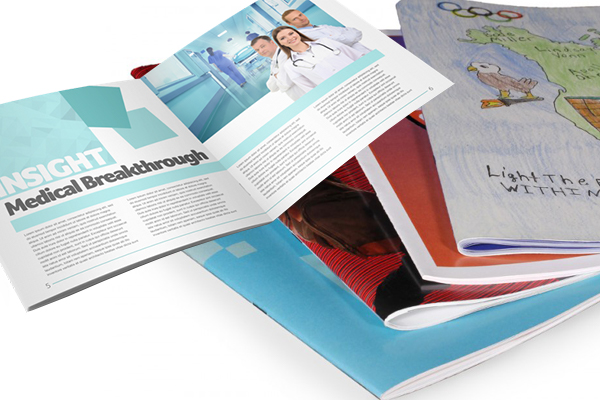 Saddle Stitching is the process taking signatures, or sheaves of folded paper, and fastening them together on the centerfold with several staples. This method is termed saddle stitching because the paper "saddles" a metal frame to align the spine of the paper under the stapler when being stapled together.
Saddle stitching is the perfect solution for smaller sized booklets and catalogs. Simple and cost effective, saddle stitching is an ideal method for binding
booklets, magazines, notebooks, catalogs, workbooks
, menus and large brochures. Saddle stitching is generally used for printed materials that are 4 to 60 pages. When designing your saddle stitched piece, take into consideration creep. Creep is created because the pages must be placed inside one another, causing a gradual edge protrusion on the inner pages as more pages are added. The more pages you have, the more creep allowance you will need. Once assembled, the pages will be trimmed to create a flush edge for a professional commercially printed product.
Sewn Bound (Not Available)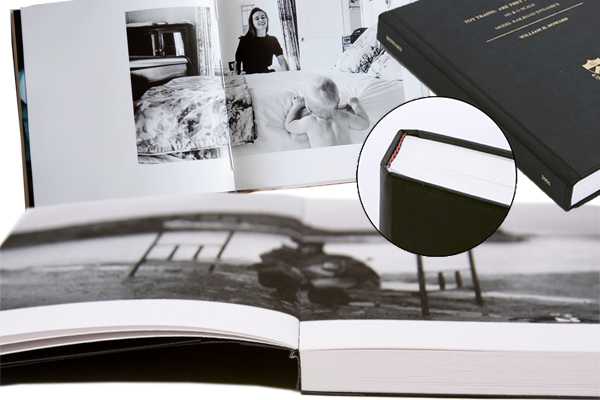 Similar to saddle stitching, but uses thread instead of wire. Thread is stitched along the entire spine. As more pages are added it begins to closely resemble case binding for hardcover. Side sewn binding is a method of binding you might also sometimes hear referred to as: "Reinforced Library Binding". It is ideal for Children's Books, Photo Books, school yearbooks and other sorts of thin cased books. This method of binding is very strong and secure. The Poly cotton fiber thread that is used to sew through the "side" of a stack of paper will last longer than the life of the paper.
Tape Bound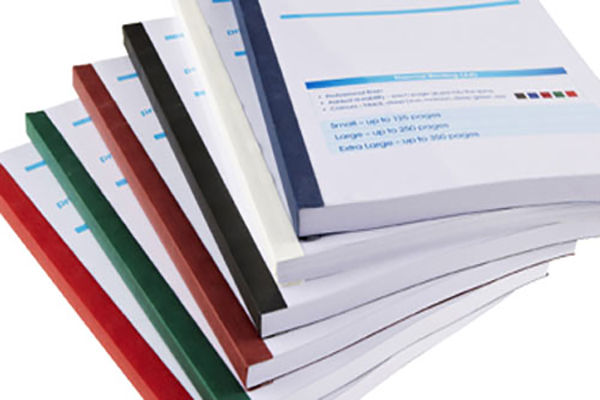 This method involves an adhesive tape being wrapped around the spine to hold the covers and inside pages in place. Usually pages need to be stitched together prior to affixing the tape to reinforce and provide added strength. Tape Binding is a finishing option generally used for single use publications. Some types of publications that use Tape Binding as a finishing option are conference or training materials that won't need to lay flat for reference purposes.
Tape binding is usually published in small orders needed for conference and training sessions. Although it has a polished look, this binding type is stiff and does not lay flat. Unlike coil or comp binds. The process of tape binding places a cloth strip of adhesive tape along the bind edge of the document and wraps around the front and back covers.
Plastic Grip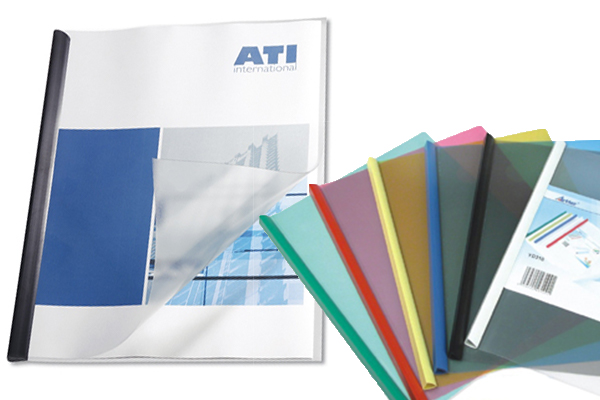 This plastic Grip binding ia a simple and easy method uses a moulded 3-sided plastic spine. By prying apart the 2 vertical strips the entire document is guided through one end of the plastic grip until it covers the full length of the spine.
Comb Binding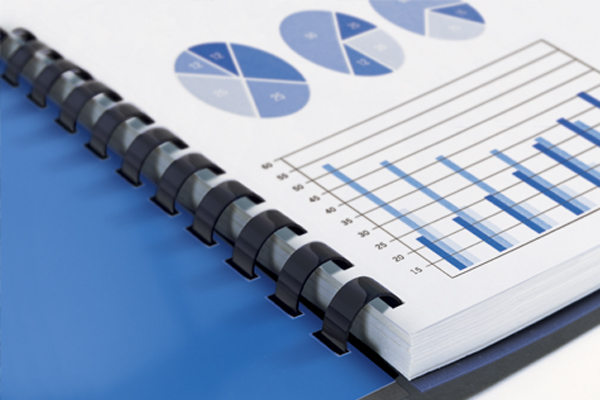 Economical method suitable for manuals and books that need to lay flat when open. Using rectangular holes punched through the document, the plastic comb rings are threaded through holes. Page edges at spine are covered by plastic comb. This binding offers flexibility in terms of look, size, and color, which makes it an ideal choice for
any printed document
binding and will keep looking crisp. This allows books to lay flat when open. Available in variety of colours to coordinate with cover colour. A durable option for a wide variety of project types.